How Much Do Robotics Technicians Make?
With the rise of industrial automation comes the demand for skilled workers that are able to work, troubleshoot, repair, program, and maintain these new machines and technologies. Robotics engineers and technicians are some of the challenging and exciting roles that have come from this evolving trend of automation and use of robots in manufacturing. Robotics technicians are responsible for servicing robots by building, maintaining, programming, and repairing them to ensure optimal machine performance throughout the machine's lifetime.
The global robotics market is expected to be worth $85 billion in 2025. Robotics technicians are in demand across all manufacturing sectors, and is expected to be one of the top jobs in the next decade.
Robotics Technician Salaries
According to Neuvoo, the average salary for robotics technicians is $35 an hour in Canada. Annual salary ranges from $43k to $68k (CAD), with $68,250 being the average.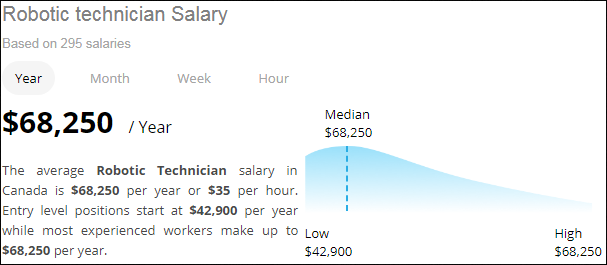 Salary will vary depending on factors such as location, individual skill set and experience, and company. There are a wide variety of entry level robotics technician jobs, and according to Indeed in 2019, salaries for senior robotics technicians can go up to $80k (CAD). Entry level jobs can include responsibilities such as welding, working with palletization robots, production line support, and robot maintenance and repair. Senior positions will require extensive experience in robot programming and troubleshooting for a wide range of industrial robotic systems, and may include other responsibilities and knowledge such as programming and troubleshooting PLC programs, preparing and interpreting CAD drawings, and working with robot simulations.
Acquiring In-Demand Skills
For those interested in becoming a robotics technician, there are opportunities to gain the required training through a postsecondary (university or college) degree, diploma, or a certificate. George Brown College's Robotics Technician certificate program is a place to start for those seeking an online, self-paced option that includes hands-on-training and covers content such as robot programming, servo systems, and robot communications for practical applications in manufacturing.
If you have any questions about the Robotics Technician certificate program, you can speak to a Program Consultant toll-free at 1 888-553-5333 or email us at info@gbctechtraining.com.