Automated Pallet Packer Improve Warehouse Efficiency Substantially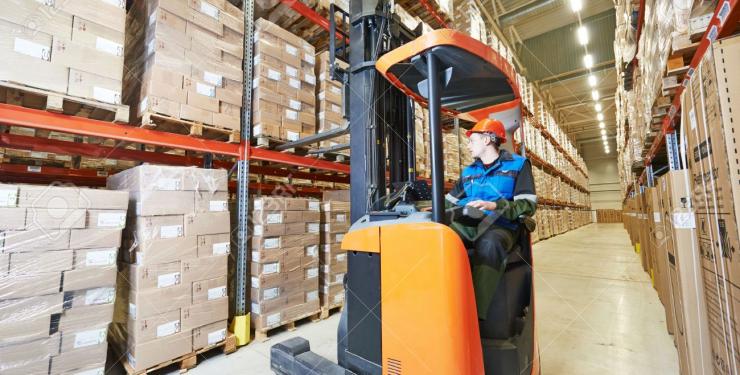 Hundreds of thousands of people working in warehouse type settings within North America use pallets to stack and organize their products daily. Pallets have become rather synonymous with warehouses; their utility and necessity cannot be argued. Pallets allow us to easily transport large and heavy amounts of product from the assembly lines, to the shipping area, and then to to customers. Despite the many sizes and variety of pallets that are available, if not properly used and cared for, pallets can cause injury in the workplace.
Pallets won't disappear anytime soon, but this hasn't stopped companies from evolving and updating their assembly lines in order to save money, improve efficiency and minimize workplace injuries. As robotics have improved, so too has the output of factories and warehouses increased. This is in no small part due to new robots that stack and prepare pallets of products. These large robots have the ability to increase the speed and efficiency of pallets stacked, as well as provide quicker production results with a significantly lower number of injuries. Typically these robots can be maintained by a robotics technician on site and can be set to handle multiple variations of stacking configurations when programmed to do so by a PLC Programmer.
How Automated Pallet Packers Improve Efficiency
Many companies need a large output of products prepared and set for shipping in a short period of time. This has led to the use of one or more pallet packers in order to help them meet their production quotas.
These large machines are usually caged in order to keep warehouse workers far enough away from the large swinging robotic arm responsible for lifting, moving and placing the product on the pallets. The large robotic arm grabs and places an empty pallet, swings over to the line where newly boxed products will gather, and then lifts a number of finished boxes at a time and brings them over to the waiting pallet. Different models will also be able to move completed pallets short distances in rotary lines. Then, lift truck operators are able to safely pick them up and move them to the trucks; or where ever they need to be placed within the warehouse. Other workers will provide a continuous supply of empty pallets to 'feed' the pallet packer so that it can run continuously.
The machines are also able to stack the boxes in predetermined configurations and with shipping labels facing the appropriate direction. This allows the workers who will be handling the pallets to easily identify the products within. The pallet packers are able to do all of this in a short amount of time and for a fraction of the cost of workers wages. While the upfront cost of these machines is significant, the savings they provide in worker wages, efficiency and output simply cannot be matched by humans. Lastly, where human workers can get hurt during the process of packing pallets, the robot again do not.
A Paradigm Shift for Workers
Where once the bulk of a warehouse's workforce would have been made up of pickers and packers that prepared skids of products to be shipped, modern warehouses will shift to a more specialized workforce of Electronics Technicians, experts in robotics, and those capable of PLC Programming. Many of the skills that are now required to fill these roles can be obtained from online technology courses where a certificate is earned. Multiple programs exist in different fields that are sought after, such as:
Automation Technician
Electromechanical Technician
Robotics Technician
Programmable Logic Technician
Warehouse processes, similar to many industries, have become much more automated. With less reliance on human workers, warehouses and companies provide themselves the chance to save money, resources and time everyday. But don't let increased automation fool you; human workers are still very much needed. The key difference now is that the workers that are needed are more specialized with a more focused skill set that not everyone will have.
To some that might mean changes in achieving certain warehouse roles or positions, but to others with the competitive skill sets, it makes for a change in how we view factory and production work. The skills are more coveted than ever before, and the work is more rewarding and technical than in the past. It's a 21st century view on an industry that is changing to no longer be archaic, resulting in a set of technically-trained individuals who may have second-guessed an entire industry career up until very recently. It's a new frontier, with the ability for many certified and trained workers to perform in safer spaces; a job requirement that is crucial for any industry -- especially in warehouses, factories and production lines.